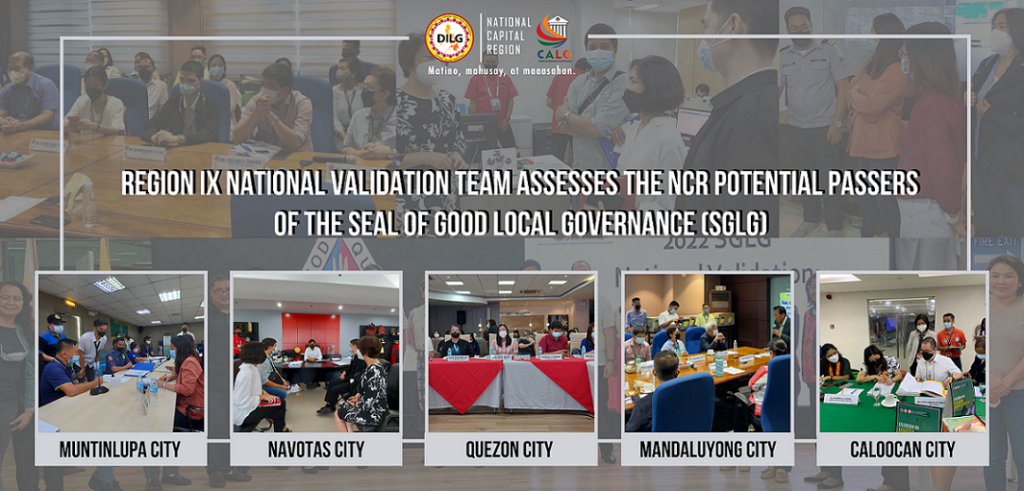 The Seal of Good Local Governance (SGLG) National Validation for the National Capital Region (NCR) was held from August 31, 2022 to September 2, 2022. Among the potential passers are: the City Governments of Caloocan, Mandaluyong, Navotas, Muntinlupa and Quezon City.
Serving as national validation assessors were: DILG Region IX Regional Director Paisal O. Abutazil, LGMED Chief Mr. Jose Ruel D. Trobanos, and Cluster Head Ms. Anabela A. Jatico.
In the said validation, the assessors were tasked to review and validate the indicators across the ten (10) governance areas of the SGLG. Key functionaries in the cities, as well as Punong Barangays, were interviewed to substantiate the means of verification (MOVs) presented and their knowledge of specific processes related to the governance areas.
Aside from the document review and interviews, the validators were also tasked to conduct on-site inspections of different facilities to check if these comply with the minimum requirements set under the relevant laws and policies.
For the whole duration of the validation, the DILG-NCR LGMED team composed of Division Chief Raymond Gerard E. De Asis, Assistant Division Chief Charlotte G. Publico, SGLG Principal Focal Person Marda Alina R. Dumaoang-Acoba, and SGLG Alternate Focal Person Ronald R. Portales assisted the Region IX SGLG Validators as they visited the five potential passers in the region.
Depending on the findings of the validation conducted, the validators will submit their recommendations as to the eligibility or ineligibility of the potential passers to the Council of Good Local Governance, which will further assess the validation results and pass final judgment on the same.