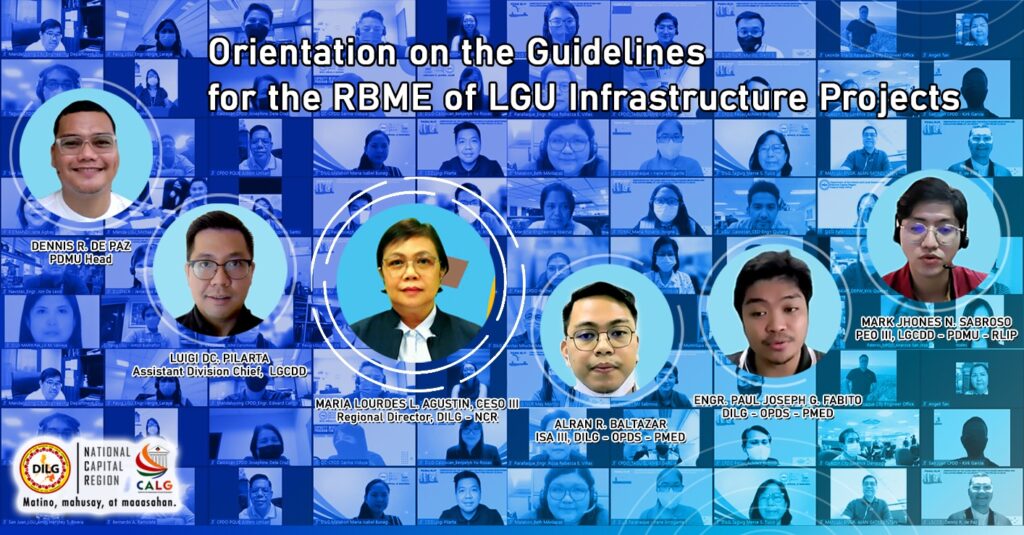 An orientation on the Guidelines for the Results-based Monitoring and Evaluation of LGU Infrastructure Projects (RLIP) was held on August 5, 2022 via Zoom Teleconferencing.
Conducted by the Local Government Capability Development Division – Project Development and Management Unit (LGCDD-PDMU), the activity is meant to brief and thoroughly familiarize Focal Persons from DILG-NCR Field Offices, Project Development Officers, City Engineers, and SubayBAYAN Encoders from all 17 LGUs in the National Capital Region (NCR) with the requirements of the RLIP which focuses on results and impacts over inputs and processes.
PDMU Head LGOO V Dennis R. de Paz provided an overview of the Results-based Monitoring and Evaluation. For his part, Mr. Mark Jhones Sabroso, Project Evaluation Officer III, began the discussion proper by giving a background of RLIP and the roles and responsibilities of the DILG Regional Office and the LGUs.
Resource persons from the Office of Project Development Services (OPDS) were invited to discuss technical matters in-depth. Engineer Paul Joseph Fabito presented the different forms required from LGUs in compliance with the RLIP and other various analytical tools that the LGUs may use in formulating the Logical Framework for their projects. To familiarize the participants with the SubayBAYAN system, Information Systems Analyst III Alran R. Baltazar demonstrated the encoding of projects to the system.
The RLIP was instituted to optimize the outcomes expected from the 20% of National Tax Allocation (NTA) earmarked by law for local development projects, the value of which is seen to substantially increase with the effectivity of the Mandanas-Garcia ruling for FY 2022-23. Relatedly, Executive Order 138, series of 2021, reaffirmed the role that the DILG traditionally played vis-a-vis LGUs, which is to assist, oversee and supervise the activities of local governments in implementing their infrastructure projects.
Director Maria Lourdes L. Agustin, CESO III, Regional Director of DILG-NCR, summed up the RLIP as appropriate and necessary saying, "Ultimately, the goal is to enhance the efficiency and effectiveness of government operations, minimize, if not totally eliminate, waste, and optimize public investments."