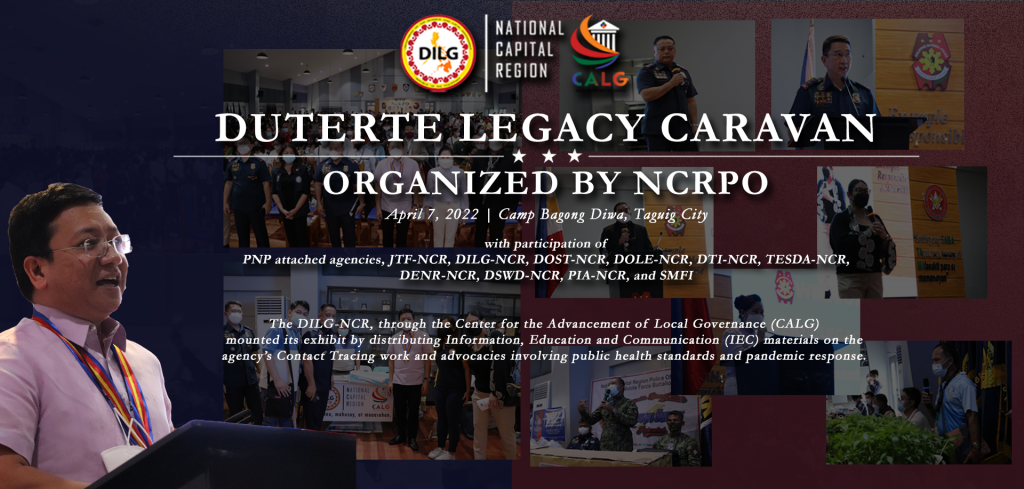 A Duterte Legacy Caravan event was held on April 7, 2022 at the National Capital Region Police Office (NCRPO) grandstand and parade ground in Taguig City.
This caravan, organized primarily by the National Capital Region Police Office (NCRPO), and the Presidential Communications Operations Office (PCOO) and Department of the Interior and Local Government (DILG), aims "to bring the basic services of various regional line agencies (RLAs) closer to the people".
Apart from the NCRPO and the AFP Joint Task Force NCR (JTF-NCR), a number of RLAs mounted service kiosks in the NCRPO parade grounds which included the regional offices of the Department of Social Welfare and Development (DSWD), Department of Labor and Employment (DOLE), Department of Trade and Industry (DTI), among others.
The DILG-NCR, through the Center for the Advancement of Local Governance (CALG) mounted its own exhibit by distributing Information, Education and Communication (IEC) materials on the agency's Contact Tracing work and advocacies involving public health standards and pandemic response. Members of the CALG Public Education on Good Governance, Development and Citizenship manned the exhibit.
In his welcoming message, PMGEN. Felipe R. Natividad said that the Caravan is meant to highlight the accomplishments of the Duterte administration in pursuit of its 10-point Socio-Economic Agenda and the gains the country achieved in terms of infrastructure development as well as in the area of peace and security.
Several other speakers conveyed their different perspectives on the Duterte legacy bringing to the fore the work that various Advocacy Support Groups are continuing to undertake in conjunction with RLAs and the active counter-insurgency and counter-narrative efforts of ELCAC and NICA.
Ka Lolit, a former cadre of the CPP-NPA also shared how the Communist Terrorist Group destroys the future of the country's youth and how it attempts to undermine the country from within.
Usec. Jonathan E. Malaya of the DILG closed the program by reiterating what the Duterte legacy is all about, which he encapsulated as "Tapang at Malasakit" – the courage to confront and defeat drug lords, terrorists and criminals and the compassion to provide for the needs of the people in terms of livelihood support, health services, and direct financial aid especially during the pandemic.