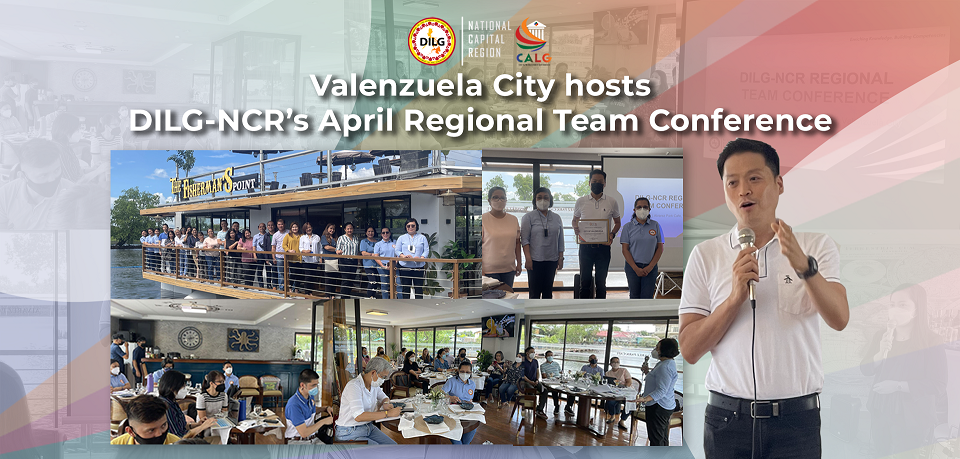 The City of Valenzuela hosted the Department of the Interior and Local Government – National Capital Region's (DILG-NCR) Regional Team Conference held on April 1, 2022 at the Tagalag Fishing Village, Valenzuela City.
Attended by its permanent members, the agenda focused on discussing the important deliverables of the Department for the 1st semester of 2022, through the presentations of the Division Chiefs and the Chief-of-Staff.
The RTC is the platform for the Regional Management to regularly discuss updates on the implementation of various DILG-managed Programs/Projects/Activities (PPA) at the Regional and Field Offices level.
Regional Director Maria Lourdes L. Agustin, CESO III, underscored that "we certainly have a lot on our plate this semester, with the conduct of various local governance functionality audits and the forthcoming national and local elections. As civil servants who are expected to undertake these critical tasks, I enjoin everyone to be continuously vigilant against the prevailing threats of COVID-19 and observe political neutrality at all times."
DILG Valenzuela Field Office City Director Mary Jane SE Nacario welcomed the participants, highlighting the best practices of the City and its winning entries in the 2021 Galing Pook Awards, putting emphasis on the development of Tagalag Fishing Village.
Valenzuela City Mayor Rexlon T. Gatchalian highlighted that it is the City's pride to win three Galing Pook Awards in a single awarding ceremony, which was held in 2021.
Bagging the 2nd spot in the 2021 Galing Pook Awards, Mayor Gatchalian remarked that the development of the Tagalag Fishing Village is Valenzuela City's strategy to empower the communities around the village, through rebranding the once dying fish pond area into an eco-friendly, child-friendly, and pandemic-friendly tourism destination.
"Tagalag Fishing Village proves that we can find a relaxation place with a park, recreational activities, and restaurants ranging from casual to formal, without going outside the Metro. I hope you can all visit Tagalag Fishing Village again with your families and friends, and let more people know about our best-kept secret here in Valenzuela," Mayor Gatchalian expressed.
ARD Atty. Ana Lyn R. Baltazar-Cortez, CESO V, thanked the City of Valenzuela for hosting the Regional Team Conference and for its steadfast support to the activities of the Department. "Rest assured that the DILG-NCR would always be of assistance to further enrich the knowledge and build the competencies of Valenzuela City and the rest of the NCR-LGUs."