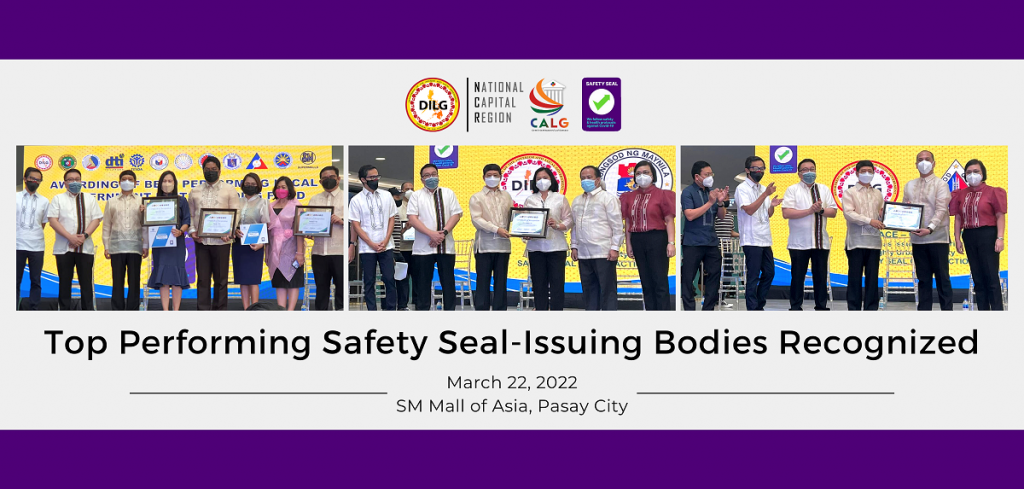 Two DILG NCR Field Offices and three NCR LGUs top the list of entities with the highest number of issued Safety Seal Certificates nationwide.
The National Task Force Against COVID-19 sponsored and led the Safety Seal Awarding Ceremony for the top-performing DILG Field Offices and Local Government Units on March 22, 2022, at the Main Mall Atrium of the SM Mall of Asia, Pasay City.
The DILG Manila Field Office with 557 issuances and DILG Quezon City Field Office with 247 issuances as of March 15 bagged the 1st and 3rd places, respectively, among the Field Offices in contention in Highly-Urbanized Cities (HUCs) nationwide. These particular awards pertain to the issuance of Safety Seal Certificates to government establishments.
Likewise, Quezon City (5,800 issuances), Makati City (3,538 issuances), and Pasay City (2,181 issuances) were recognized as the top 3 LGUs with the highest number of issued Safety Seals to registered private establishments nationwide.
The awarding ceremony aims to recognize the efforts of said certificate-issuing bodies in the campaign to encourage both public and private establishments to apply for Safety Seal Certifications signifying their compliance with health protocols.
The Safety Seal Certification is a voluntary program that promotes public awareness of and confidence in government efforts to mitigate and control the spread of COVID-19 in accordance with the minimum health protocols currently in force and widespread adoption of the StaySafe.ph app – a contact tracing platform sponsored by the government.#