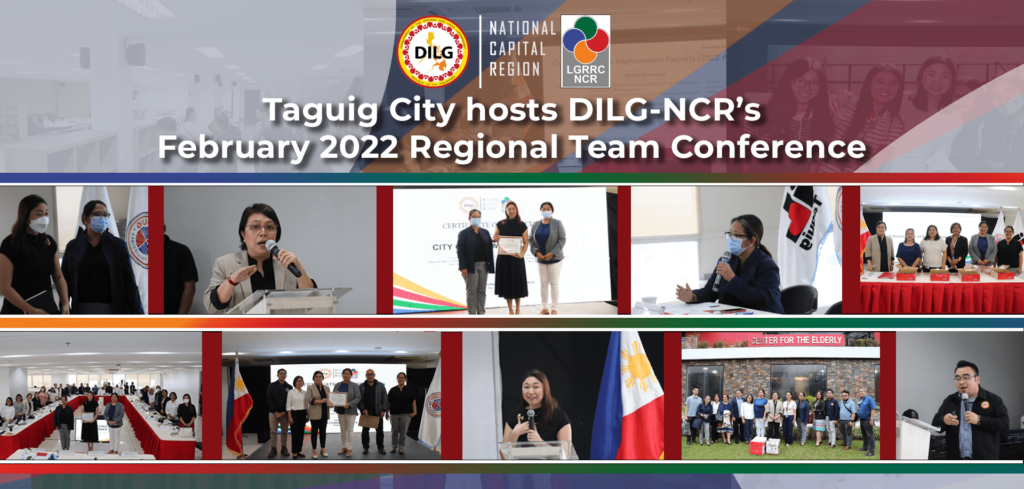 The City of Taguig hosted the Department of the Interior and Local Government – National Capital Region's (DILG-NCR) Regional Team Conference (RTC) and Quality Management System (QMS) Management Review held on February 21, 2023, at Kalayaan Hall, SM Aura, Taguig City.
Attended by all DILG-NCR executives led by Regional Director Maria Lourdes L. Agustin, CESO III, the first part of the activity focused on the RTC, which discussed the agency's FY 2023 Annual Operations Plan and Budget (AOPB) as well as the technical and administrative updates from the Regional Office and Field Offices.
Taguig City Mayor Maria Laarni L. Cayetano welcomed the participants by sharing the City's priority programs and best practices in line with her vision of making Taguig a transformative, lively, and caring City. "I hope that through these kinds of interfacing activities, we can learn more from each other, especially on the best practices that both the national and local government may adopt or adapt from one another," Mayor Cayetano remarked.
In her opening message, Assistant Regional Director Atty. Ana Lyn R. Baltazar-Cortez, CESO V enjoined all Field Offices to give their full support and cooperation to the task of completing all of DILG-NCR's deliverables for 2023. "Let us also pay special attention to the implementation of the Buhay Ingatan Droga'y Ayawan (BIDA) program – the core anti-illegal drug program of the Department," said ARD Atty. Baltazar-Cortez, CESO V.
The second part of the activity focused on the QMS Management Review, which covered DILG NCR's QMS performance, progress, adequacy of resources, as well as specific aspects in need of improvement. ARD Atty. Baltazar-Cortez, CESO V, who serves as the office's Quality Management Representative (QMR), asserted that "Management Review is an opportunity for us to reflect on our accomplishments, as well as to analyze our challenges and discuss potential solutions."
Regional Director Agustin ended the meeting by expressing her gratitude to Mayor Cayetano and to the DILG Taguig Field Office led by City Director Gemma D. Dancil, for hosting the RTC and the QMS Management Review.
After the RTC, the City Government led the DILG-NCR executives to the City's Center for the Elderly, a five-storey building that provides the many health and lifestyle needs of senior citizens in Taguig City. The center's amenities include a therapy pool, massage room, saunas, gym, lounge, and a dialysis center.
The services of the Taguig City Center for the Elderly may be availed for free by the senior citizens of Taguig. City buses and coasters are also available to ferry them to and from the Center.