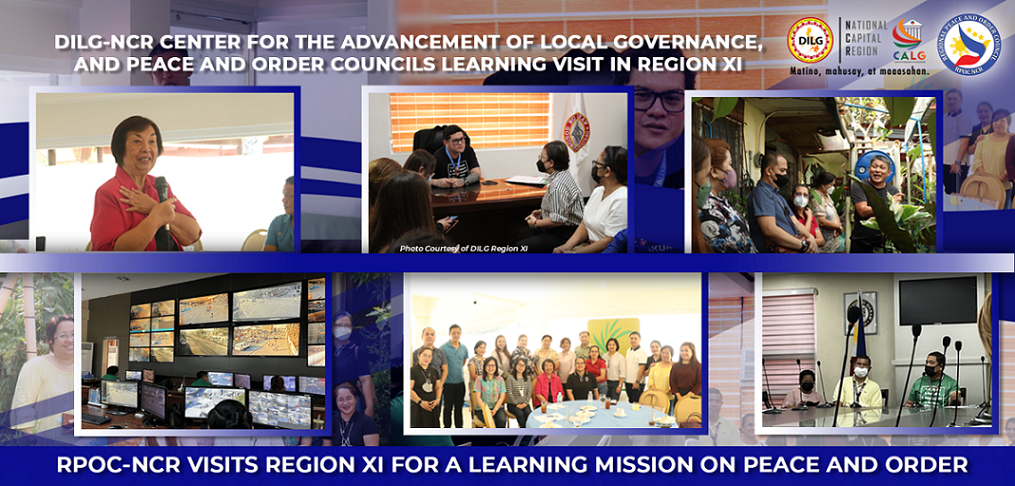 As part of its efforts to further capacitate the Heads of the 17 Local Peace and Order Council (LPOC) Secretariats, the Regional Peace and Order – National Capital Region (RPOC-NCR) Secretariat went on a learning mission to Davao City and Davao de Oro to study their Peace and Order programs and initiatives from September 21-23, 2022.
In partnership with DILG Region XI, the learning visit was organized by DILG-NCR, which serves as the RPOC-NCR Secretariat, to impart to the participants a deeper understanding of the conceptual and practical aspects of peace and order practices in Region XI.
The learning visit kicked off with a courtesy visit by the DILG-NCR delegation to incumbent Davao City Mayor Sebastian Z. Duterte on September 21, 2022, at the Davao City Hall.
After the courtesy visit, the DILG-NCR's City Directors and lone MLGOO, who serve as the Secretariat Heads of the LPOCs in their respective LGUs, had the opportunity to visit Davao City's Public Safety and Security Command Center (PSSCC).
Representing PSSCC Head Police Lieutenant Colonel (PLtCol) Angel B. Sumagaysay (Ret), Jail Superintendent (JSupt) Josie E. Bacruya (Ret) provided a walkthrough of PSSCC's operations, being the primary office tasked to provide an effective, coordinative, and integrative command and control system over units comprising the safety, law and order, security, and intelligence clusters in the city. The PSSCC also ensures interoperability of the units to achieve efficiency of operations.
On the second day, the delegation visited the DILG Davao de Oro Provincial Office led by Provincial Director Noel C. Duarte, who presented the office's strategies and accomplishments in countering insurgency in the province.
The third day saw the delegation attend a lecture on Positive Peace given by Ms. Irene M. Santiago, Board of Trustee of the Local Government Academy. Positive Peace is defined by the Institute for Economics and Peace as "a more lasting peace that is built on sustainable investments in economic development and institutions as well as societal attitudes that foster peace."
Ms. Santiago's discussion was complemented by the presentation of Mr. Perfecto "Jojo" B. Rom Jr. on Urban Container Gardening (UCG), which demonstrated one of the many practical applications of positive peace in everyday life.
On behalf of DILG-NCR, Assistant Regional Director Atty. Ana Lyn R. Baltazar-Cortez, CESO V expressed the delegation's gratitude and appreciation for the hospitality and goodwill extended by DILG Region XI, the City Government of Davao, and Provincial Government of Davao de Oro.