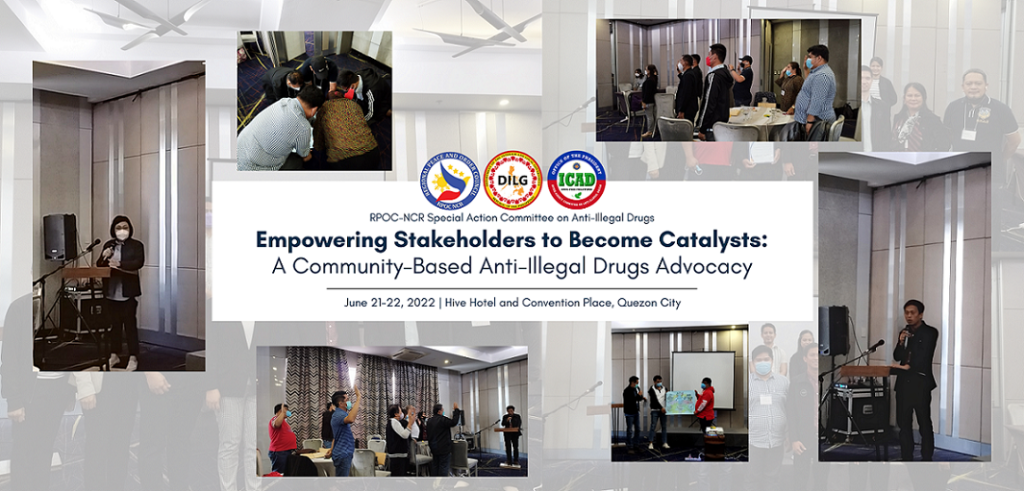 The Regional Peace and Order Council – National Capital Region Special Action Committee on Anti-Illegal Drugs (RPOC-NCR-SAC AID) conducted a two-day training titled "Empowering Stakeholders to Become Catalysts: A Community-Based Anti-Illegal Drugs Advocacy". The training was held on June 21-22, 2022 at Hive Hotel in Quezon City.
The activity aims to train and upskill participants to curb drug dependency and conduct preventive education.
In addition, the activity aims to elicit insights as to how the community views the government's anti-illegal drug campaign and thus enable government agencies to further refine its anti-illegal drug strategies, fine-tune its programs, and in the process, ignite the community's desire to become anti-illegal drug champions.
Participants are members of the Anti-Drug Abuse Council (ADAC) and Barangay Anti-Drug Abuse Council (BADAC) which include representatives from the academe, non-government organizations, faith-based organizations, members of the Sangguniang Kabataan, and Chairpersons of the Sanggunian Barangay Committee on Peace and Order.
A total of 17 participants completed the training and took an oath to serve as catalysts of change and promoters of the protection of life against illegal drugs in the community.
Subject matter experts from the Philippine Drug Enforcement Agency – NCR (PDEA-NCR) led the course proper; and they all generously shared their knowledge on anti-illegal drug laws with the participants.
In her message, DILG-NCR Regional Director Maria Lourdes L. Agustin, CESO III, mentioned that the ADACs and BADACs play a crucial role in aiding the government and the community in their fight against illegal drugs.
PDEA-NCR Regional Director Christian O. Frivaldo, CESE, lead of SAC-AID, affirmed that the government understands the value of partnerships and looks forward to working with LGUs to enlist committed individuals and stakeholders to become catalysts of change.