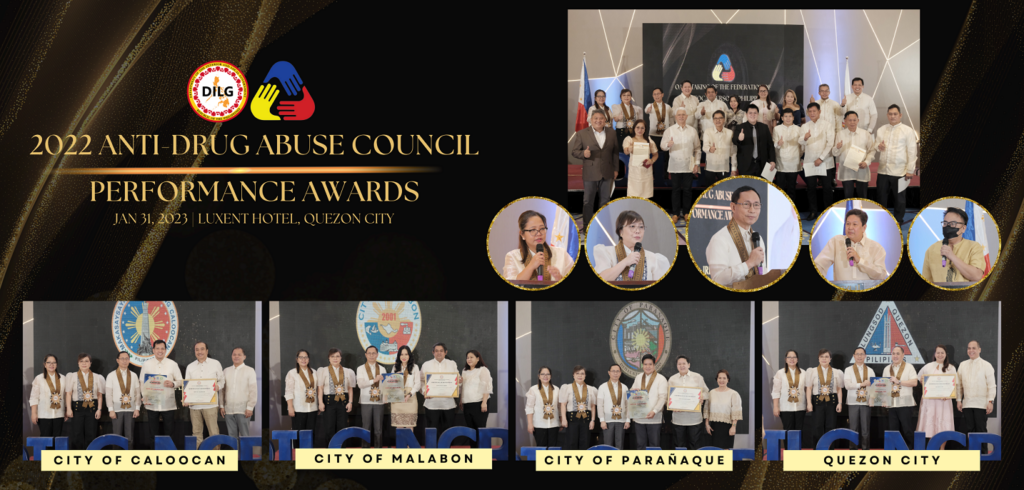 The DILG-NCR awarded the four top-performing LGUs in the National Capital Region for their excellent performance in the fight against illegal drugs during the 2022 Anti-Drug Abuse Council (ADAC) Performance Audit Awards held on January 31, 2023 at the Luxent Hotel, Quezon City.
The four top-performing LGUs are: the Cities of Caloocan, Malabon, Parañaque, and Quezon City. The rest of the LGUs in NCR were also recognized for their accomplishments and new ideas and innovations to rehabilitate and reintegrate persons who use drugs (PWUDs) into the community.
DILG-NCR Regional Director Maria Lourdes L. Agustin, CESO III in her welcoming remarks emphasized that "By their [ADACs] hardwork, dedication, and successes, we hope to glean and find concrete examples of best practices in the ongoing fight against illegal drugs."
DILG Undersecretary for Local Government Marlo L. Iringan, CESO III, expressed his gratitude to the 17 NCR LGUs for their continuous support for and exemplary efforts in eradicating illicit drugs. "We salute you and commend your exceptional contributions to the overall national [anti-drug] campaign by building stronger institutions, rendering assistance to our law enforcement agencies, and advancing these advocacies down to the level of our communities. Indeed, you are all our true heroes in this fight because your efforts do not only make a real difference in the lives of many core people, but also complement us in the national government."
Usec. Iringan also administered the oaths of office of the officers and board members of the newly-formed Federation of ADAC Focal Persons Philippines. The ADAC Focal Persons lead the LGUs' anti-drug abuse initiatives.
The establishment of this federation demonstrates common desire to develop excellent working relationships among their fellow focal persons for purposes of sharing good practices and offering assistance to their peers as needed. This statement of purpose was expressed by Mr. Andres M. Altarejos, the President of the Federation of ADAC Focal Persons Philippines.
Also during the awarding ceremony, Mr. Keith Lagmay, Assistant Division Chief, Policy Compliance Monitoring Division under the Bureau of Local Government Supervision of the DILG, shared valuable inputs and updates on the Buhay Ingatan, Droga'y Ayawan (BIDA) Program.
In her closing message, DILG-NCR Assistant Regional Director Atty. Ana Lyn R. Baltazar-Cortez, CESO V said that the recognition given to LGUs represent the battles they have won in the fight against illegal drugs.