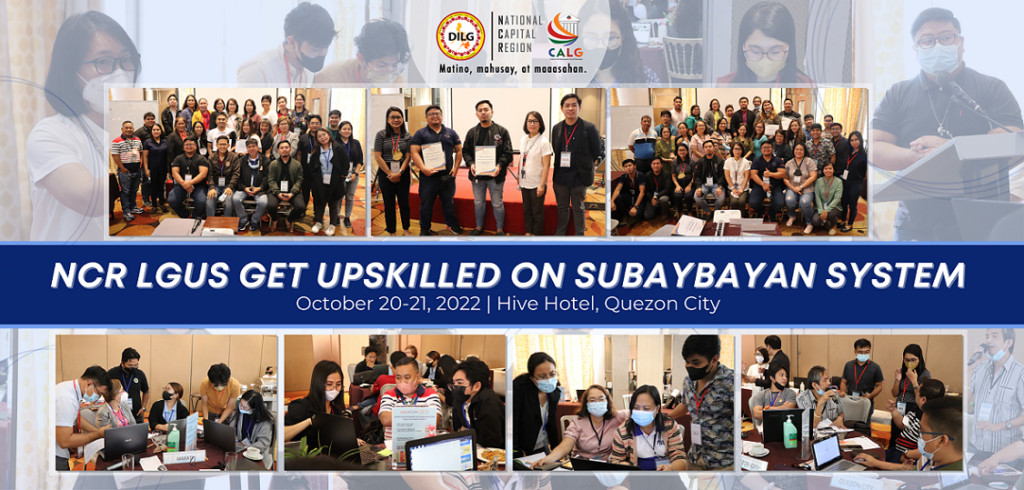 A reorientation and workshop on the Local Government Support Fund (LGSF) and Results-based Monitoring and Evaluation of LGU Infrastructure Projects (RLIP) using the SubayBAYAN system was conducted for two batches of participants from October 20 to 21, 2022 at the Hive Hotel in Quezon City.
The Project Development and Monitoring Unit (PDMU) led the upskilling activity for participants consisting mainly of DILG-NCR Field Office Focal Persons for the LGSF and RLIP and Encoders from the 17 NCR LGUs inputting data into SubayBAYAN system, particularly those encountering the system for the first time.
In her opening message, DILG-NCR Regional Director Maria Lourdes L. Agustin, CESO III, said that the activity is intended to familiarize the participants with the more demanding data entry requirements for RLIP and LGSF using the SubayBAYAN system, the objective being to further improve the Monitoring and Evaluation (M&E) function and thereby eliminate leakages in the capital expenditures under the LGSF and RLIP programs.
The activity focused on the preparation of documents and the updating of information on the status of projects using the SubayBAYAN system. Personnel from the PDMU discussed the status and updates on the projects currently encoded in the system while resource speakers from the DILG Central Office, Project Monitoring and Evaluation Division – Office of Project Development Services (PMED-OPDS) provided a hands-on demonstration and navigation of the SubayBAYAN system.
Ms. Helen A. Verzosa, Chief of the Local Government Capacity Development Division (LGCDD) of DILG-NCR, synthesized the salient points of the proceedings which ended with the participants expressing renewed interest in and even enthusiasm for the more rigorous M&E of RLIP under the SubayBAYAN system.
Atty. Ana Lyn R. Baltazar-Cortez closed the sessions with the message, "the reorientation activity and workshop that you participated in today ensures that the SubayBAYAN system operates to the high standards of its intended purpose, that is to track the progress of project implementation."