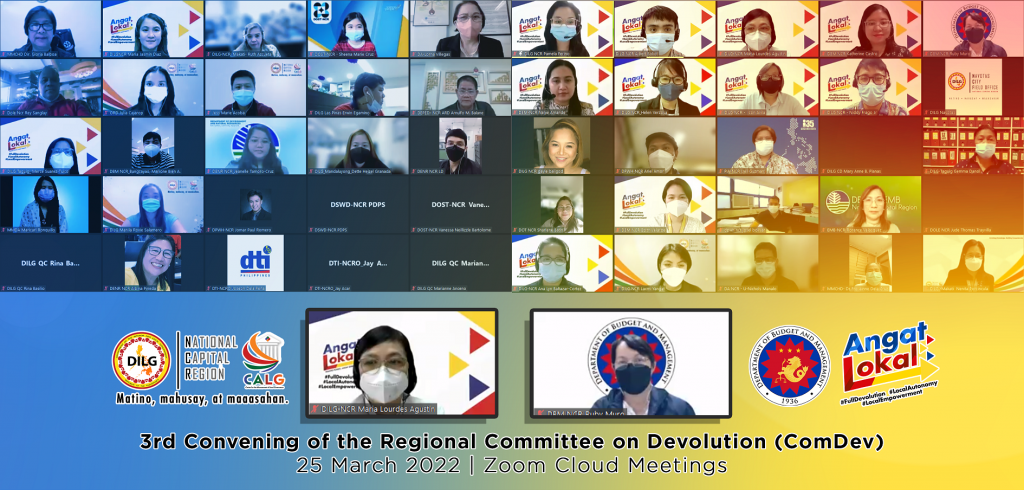 Members of the NCR ComDev and Regional Line Agency Heads and Representatives gathered to determine the next steps of the Committee following the submission of the LGU DTPs. DILG NCR City Directors, MLGOO and Cluster Heads were also present in the meeting as observers.
Co-Chair of the NCR ComDev, DILG NCR Regional Director Maria Lourdes L. Agustin set the tone of the meeting by underscoring the notable achievements of the NCR ComDev and expressing her gratitude to the members of the Committee for their unceasing dedication and commitment in providing support to the devolution process.
As a precursor, NCR ComDev Secretariat Ms. Neljie Amande of the Department of Budget and Management (DBM) presented the 4th Quarter Accomplishment Report for year 2021 – placing emphasis on the 2nd Convening of the Regional ComDev as one of the Committee's major accomplishments last year.
The meeting also highlighted the completion of the assessment of LGU DTPs in the region. DMO IV Leonides Frago, Jr. of DILG NCR provided a brief overview of the DTP Quality Assessment Tool and its three (3) parameters of assessment to enlighten the members of the NCR ComDev on this undertaking.
DILG NCR Assistant Regional Director Atty. Ana Lyn R. Baltazar-Cortez proceeded to present the results of the DTP Quality Assessment conducted by the DILG Regional Office last February 2022 highlighting that all barangay DTPs in NCR were assessed completely. For LGU DTPs, two LGUs remain to carefully deliberate on their DTPs at the Sanggunian level.
As part of its vision, the NCR ComDev also served as the forum to receive updates on the status of NGA DTPs. NCR ComDev Secretariat Ms. Katherine Castro of DBM briefed the body on the latest count of NGA DTP review and discussed salient points in Local Budget Circular No. 145 or the Guidelines on the Implementation of Personal Services (PS) Limitation on Local Government Budgets and Determination of Waived PS Items.
Before closing, the body agreed on the Committee's next steps for the rest of 2022. A key action point laid down is the inclusion of representatives from the Leagues of City, Municipality and Barangay to the ComDev to fully include all voices and interests in the region.
DILG NCR Local Government Capability Development Division (LGCDD) Chief Helen A. Verzosa discussed the summary of agreements of the Committee's next steps in ensuring a smooth transition to devolution in NCR.
In concluding the event, Chair of the NCR ComDev, DBM NCR Regional Director Ruby P. Muro thanked the members of the Committee for their attendance and assured them of continuous support. "Whatever concerns or issues you may encounter in the devolution process, don't hesitate to raise it to us. Your ever present support is what will help us accomplish more," she said.