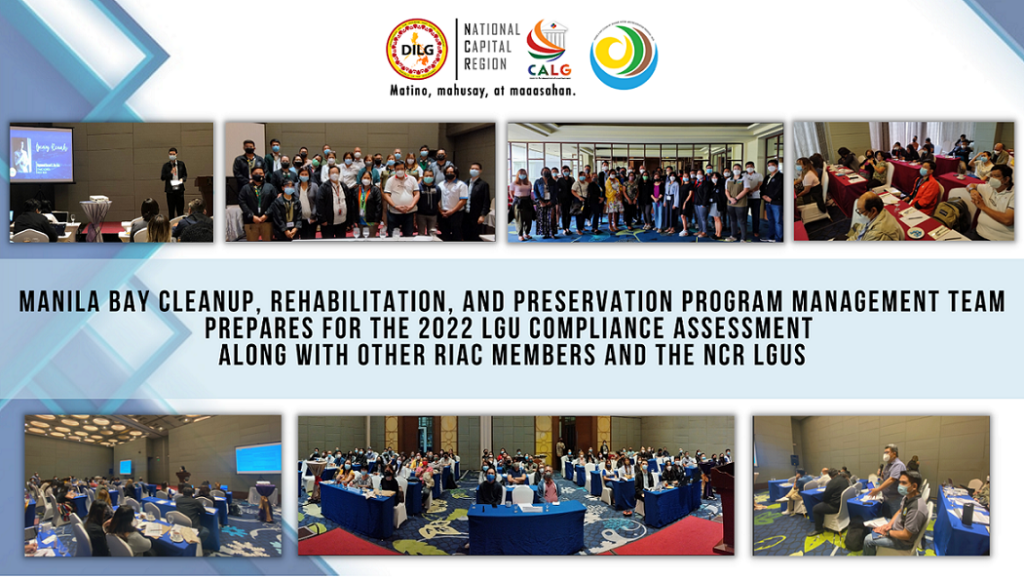 In preparation for the upcoming Local Government Unit Compliance Assessment (LGU CA), the Manila Bay Cleanup, Rehabilitation, and Preservation Program Management Team (MBCRPP-PMT) conducted a planning workshop and orientation activity with NCR LGUs. The activity ran from September 5 to 7, 2022 at Luxent Hotel in Timog Avenue, Diliman, Quezon City.
The LGU CA is an annual assessment covering LGUs located along the Manila Bay, the purpose of which is to evaluate the LGU's compliance with the Supreme Court (SC) Mandamus to clean, rehabilitate, and preserve Manila Bay, and restore and maintain its waters to SB level, thus making it fit for swimming, skin-diving, and other forms of contact recreation.
Aiming to prepare both the Regional Inter-Agency Committee (RIAC) and the NCR LGUs for the upcoming assessment, the three-day activity was divided into two parts: the planning workshop with the RIAC, and the orientation proper with the LGUs.
Day One of the activity revolved around the discussion of the recalibrated LGU CA Tool and Guidelines. The RIAC is composed of representatives from the different SC-named Mandamus Agencies, which include the DILG.
LGOO V Marlon Clyde Camilon, Program Head of the MBCRPP-PMT, explained the rationale behind the conduct of the assessment. "While the annual conduct of the LGU CA assesses the level of compliance of NCR LGUs to the continuing SC Mandamus, it is also an avenue to look if there are specific gaps where the team can provide LGUs with technical assistance and support."
The discussion brought forth insightful suggestions from the RIAC affecting this year's assessment process as well as next year's assessment tool recalibration.
On its second day, the activity focused on planning, scheduling, and finalizing the itinerary for the compliance assessment. This year marks the resumption of the face-to-face LGU-CA which, as before, is divided into two parts: the table assessment and the onsite inspection.
During the last day of the three-day activity, the LGU functionaries from different concerned offices, as well as the DILG Field Office MBCRP Focal Persons, met for an orientation meeting on the recalibrated tool, took up outstanding concerns, and discussed suggestions related to the said tool. The group also apprised of program details, the corresponding schedule of activities and the deadlines set by the RIAC for the submission of documents.
Towards the conclusion of the activity, the participants were provided with the Google links where the Means of Verifications (MOVs) are to be submitted.
The 2022 LGU Compliance Assessment proper will be conducted from September 20, 2022 to October 13, 2022.