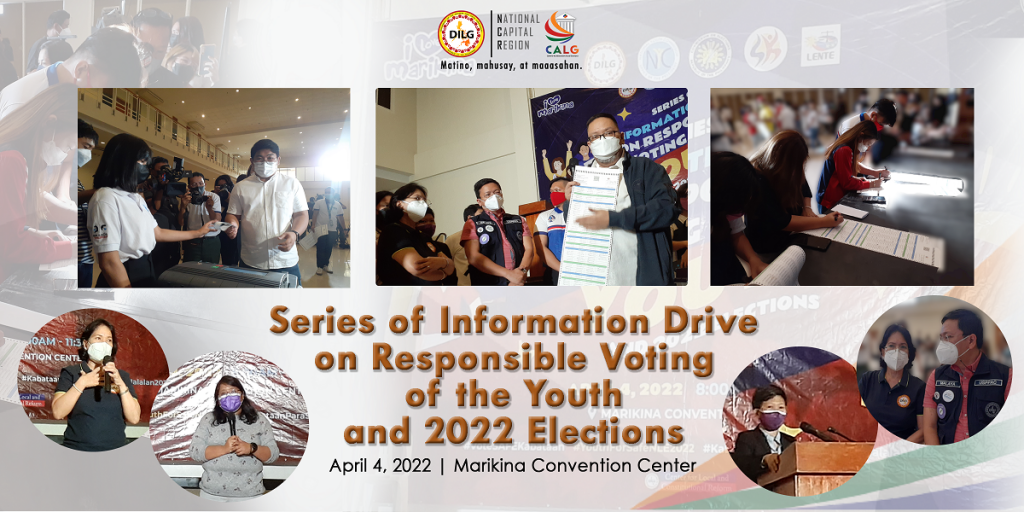 Through the joint partnership of the Department of the Interior and Local Government (DILG), Commission on Elections (COMELEC), National Youth Commission (NYC), and Legal Network for Truthful Elections Philippines (LENTE Philippines), the first installment in the Series of Information Drive on Responsible Voting of the Youth and 2022 Elections was held at the Marikina Convention Center on April 4, 2022.
The activity was attended by various youth, young leaders of the Sangguniang Kabataan, Youth Development Council and Youth Organizations from the different LGUs of the National Capital Region.
DILG Undersecretary for Plans, Public Affairs, and Communications Jonathan Malaya, emphasized "Selecting the right leaders will stir our nation's path for sustainable development". Usec. Malaya stressed that the civic and moral duty to vote carries with it the inherent responsibility to be informed of and to promote fair and honest elections. The power of social media and information technology can be used as effective tools for the delivery of voters' education and at the same time curb "infodemic".
According to Usec. Malaya, the DILG, as deputized agents of the COMELEC, is in the talks with concerned parties to reactivate the Anti-Vote Buying Campaign Task Force whose aim is to minimize, if not eliminate, the occurrence of vote buying in the upcoming elections.
The highlight of the first day of the information drive is a demonstration on the use of the voting counting machine led by Dir. James Jimenez, COMELEC's Director for Education and Information. Dir. Jimenez discussed the procedures of governing automated voting on the day of the election. The Sanggunian Kabataans attendees were given sample ballots to simulate voting, from the shading of the ballots up to the printing of the vote receipt.
Atty. Rona Ann Caritos, Executive Director of LENTE Philippines, discussed Electoral matters and Misinformation/Disinformation issues. Atty. Caritos differentiated misinformation from disinformation, and malinformation. One of the key points of her lecture is the need to verify or fact-check election-related contents posted in various online platforms.
The DILG Marikina City Field Office through its City Director, Dir. Alona Raymundo, CESE, discussed the Do's and Don'ts for Public Officials and Employees during the Election Period. The Administrative Code of 1987 and the Civil Service Commission-COMELEC Joint Circular No. 001 series of 2016 provide for the guidelines and enumerate prohibitions covering electioneering offenses and partisan political activity by public officials and employees.
As part of the DILG-NCR's Center for the Advancement of Local Governance (CALG) – Public Education on Good Governance, Development, and Citizenship Facility and the efforts of the Legal Unit/Bantay-Korapsyon #BeInTheKnow Series, the election information drive is a continuing initiative of DILG-NCR to promote and uphold the integrity and sanctity of the upcoming national and local elections.#