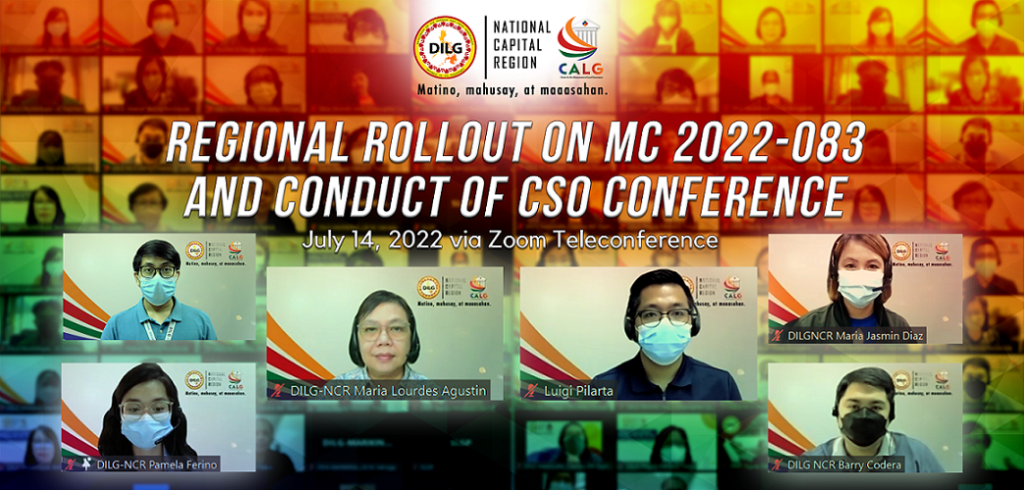 Civil Society Organizations (CSOs) have long been one of the government's efficient and active partners in enabling services in the local communities. To further promote and recognize the important role of CSOs in local governance, the Department of the Interior and Local Government – National Capital Region (DILG-NCR) conducted a Regional Rollout on Memorandum Circular (MC) No. 2022-083, entitled "Guidelines on the Accreditation of Civil Society Organizations (CSOs) and Selection of Representatives to the Local Special Bodies (LSBs)" to its Field Offices on July 14, 2022, via Zoom Teleconference.
The Regional Rollout on MC 2022-083 was conducted to cascade the salient features and innovations on the newly-issued policy covering the accreditation of Civil Society Organizations (CSOs).
DILG-NCR Regional Director Maria Lourdes Agustin underscored the significance of CSOs in cultivating participatory and collaborative governance.
"The participatory mechanisms in the form of Local Special Bodies ensure the pathways to bring collective interests and voicing the people's concerns at the local and regional development planning," RD Agustin said.
Local Government Operations Officers (LGOO) from the Local Government Capacity Development Division (LGCDD), LGOO V Maria Jasmin Diaz and LGOO III Ma. Pamela Ferino discussed the background and overview of the policy, including the frequently asked questions during the national rollout of the policy.
Afterwards, a productive discussion ensued on the numerous concerns raised by DILG Field Offices in NCR regarding the gray areas in the policy that will be raised by the DILG NCR to the proper channels. One example is the need for additional guidance on how LGUs, pending the reorganization of local special bodies and accreditation of CSOs, can approve local plans.
Lastly, as a precursor to the conduct of CSO Conference in the LGUs, Development Management Officer (DMO) IV Leonides Frago, Jr. and DMO III William Barry Codera presented the CSO Conference Field Guide – highlighting the modules, timeline and roles and responsibilities of the DILG Field Offices as well as the LGUs.
In closing, LGCDD Assistant Division Chief Luigi Pilarta extended his gratitude and synthesized the comments, concerns, and recommendations raised by the Field Officers.
"The time is now for us to provide our technical assistance to our LGUs, especially with the innovations provided in the memorandum circular," ADC Pilarta said.