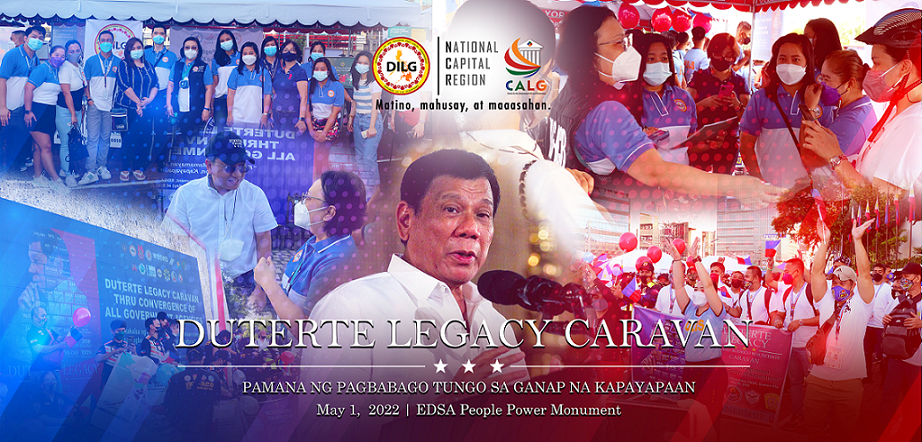 To showcase the programs, projects and accomplishments under the present administration, a Duterte Legacy Caravan was held at the Edsa People Power Monument on May 1, 2022, coinciding with the celebration of Labor Day.
With the theme "Pamana ng Pagbabago Tungo sa Ganap na Kapayapaan," the Duterte Legacy Caravan aims to highlight the accomplishments under the key three pillars of the President's legacy, which are peace and order, infrastructure and development, and poverty alleviation as well as to bring basic government services to the communities.
A collaboration between government agencies and volunteers from multi-sectoral groups, the Department of the Interior and Local Government-National Capital Region (DILG-NCR) joined the pool of agencies participating in the activity as the lead of the NCRTF-ELCAC Basic Services; Sectoral Unification, Capacity Building, Empowerment and Mobilization; and Local Government Empowerment Clusters. The DILG-NCR, through the Center for the Advancement of Local Governance (CALG), distributed relevant Information, Education and Communication (IEC) materials on DILG-led Cluster Programs, specifically on Capacitating Urban Communities for Peace and Development, and Retooled Community Support Program, among others.
Executive Director of the Presidential Task Force on Media Security, Usec. Jose Joel Sy-Egco officially welcomed the participants by recognizing the different national government agencies (NGAs), local government units (LGUs), and non-governmental organizations (NGOs) present at the caravan.
The Duterte Legacy Caravan, as emphasized by Usec. Sy-Egco, encompasses the accomplishments and milestones under President Duterte's administration which were made possible through the collective efforts of all the government agencies. "Sama sama po tayo sa paglilingkod sa ating mga kababayan," Usec. Sy-Egco said.
In the course of the event, inspirational messages from prominent figures were also delivered. DILG Undersecretary for Plan, Public Affairs and Communication Jonathan Malaya took the stage and extended his gratitude to all Filipino workers. In his message, Usec. Malaya commended the Filipino workers for their immense contribution in the accomplishments of the government under the present administration. "Araw ng manggagawa ay araw ng pasasalamat at pagkakaisa ng ating bansa," Usec. Malaya remarked.