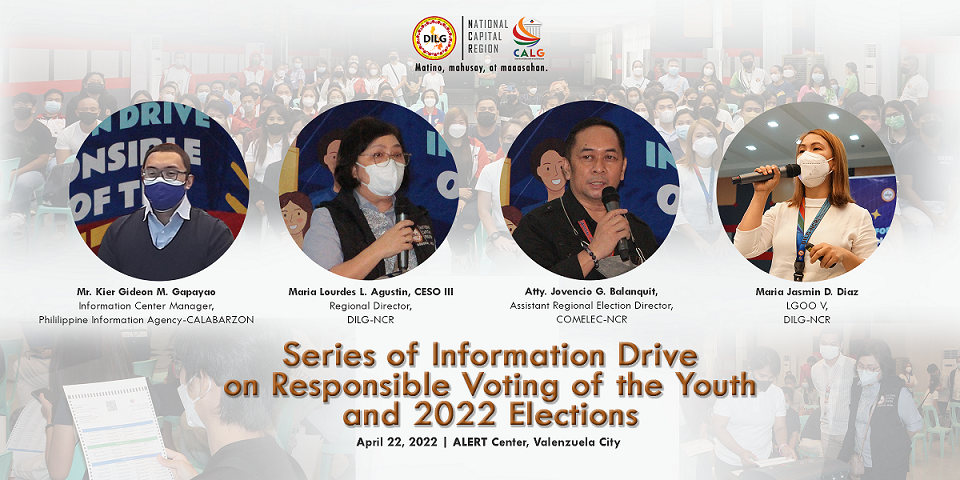 The DILG-NCR, through the Local Government Capacity Development Division (LGCDD) and the Center for the Advancement of Local Governance (CALG), organized the second Series of Information Drive on Responsible Voting of the Youth and 2022 Elections. The activity was held on April 22, 2022 at the ALERT Multi-purpose Hall in Valenzuela City.
The information drive is a joint effort of DILG-NCR, Philippine Information Agency (PIA), and Commission on Election (COMELEC), together with the DILG Center for Local and Constitutional Reform – Project Management Office (CLCR-PMO). The project aims to present and discuss the roles of the youth and strengthen their participation in the 2022 National and Local Elections.
Around 150 Sanggunian Kabataan (SK) elected members and leaders of youth organizations from the different cities in NCR were in attendance.
DILG-NCR Regional Director Maria Lourdes L. Agustin CESO III opened the seminar by reminding the youth that it is important that voters be, in her own words "mapagmatyag, mapanuri at matalino sa pagpili ng ibobotong mga lider." She added that voters need to be armed with accurate and truthful information for this to come about.
Lamentably, RD Agustin noted the results of a recent SWS survey indicating that 7 out of 10 adult voters believe that the proliferation of fake news and disinformation (especially in social media) is a serious problem facing our elections. For this and other reasons, the holding of voter education seminars assume even greater importance, especially among the youth who are avid consumers of content shown online.
Following RD Agustin's opening message, Atty. Jovencio G. Balanquit, Assistant Regional Election Director of COMELEC-NCR, explained the salient points of COMELEC Resolution 10732 which regulates political campaigning. He also covered the do's and don'ts of voting while demonstrating the use of Vote Counting Machines (VCMs). The participants were able to see firsthand how the VCM would reject ballots that were incorrectly shaded or tampered with.
For his part, Mr. Kier Gideon M. Gapayao, Information Center Manager of Philippine Information Agency – CALABARZON (PIA-CALABARZON), expounded on the role of social media during the election period, focusing on the proliferation of misinformation and disinformation therein. He also enlightened the young audience on how to spot fake news and differentiate them from legitimate political discourse. Mr. Gapayao ended his presentation with three simple messages: you are what you share, responsible sharing of information starts with you, and truth empowers.
Finally, DILG-NCR's LGOO V Maria Jasmin Diaz, presented the do's and don'ts for Public Officials and Employees during the Election Period, who are, for the most part, barred from engaging in political partisan activities, among other prohibited acts.
As part of the efforts of CALG – Public Education on Good Governance, Development and Citizenship Facility and the Legal Unit/Bantay-Korapsyon with their #BeInTheKnow Series, the seminar went a long way in advancing election literacy and voters' education among the youth.#