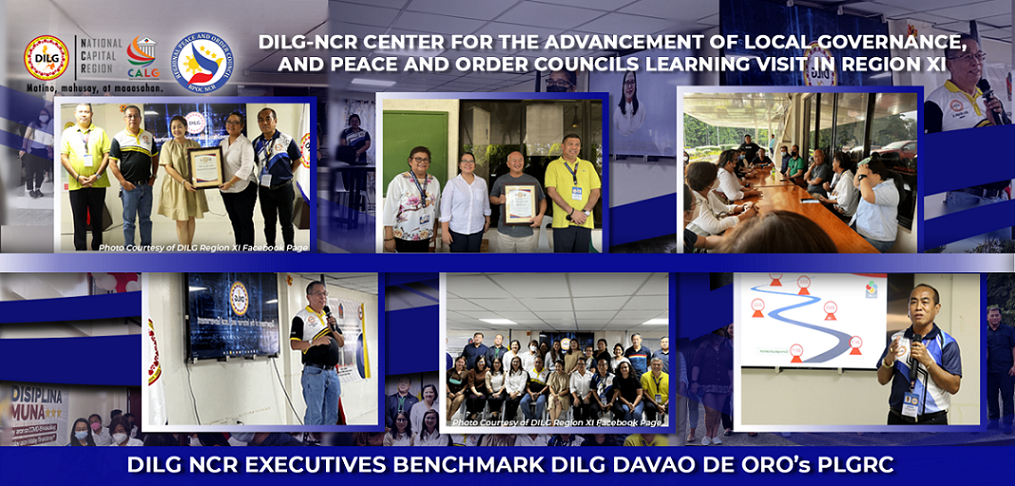 As part of its continuing commitment to expand its Knowledge Management (KM) operations, DILG-NCR's Executives conducted a benchmarking activity at DILG Davao de Oro's Provincial Local Governance Resource Center (PLGRC) last September 22, 2022.
The activity was participated in by DILG-NCR's City Directors, Division Chiefs, lone Municipal Local Government Operations Officer (MLGOO), as well as DILG Region XI's core team, MLGOOs, and representatives from Davao de Oro's Provincial Government. Davao de Oro's incumbent Governor, the Honorable Dorothy M. Gonzaga, lent her support to the undertaking and conveyed her gratitude to the DILG-NCR delegation for visiting the province.
In his opening message, DILG Region XI Regional Director Alex C. Roldan, CESO V, highlighted the pivotal role that DILG Davao de Oro's PLGRC played in reducing insurgency in the province to the barest minimum. The PLGRC serves as the main venue for the series of dialogues between and among the Provincial Office, national government agencies with mandates on peace and order, local government units, and various non-governmental groups.
"Through the efforts of the men and women behind DILG Davao De Oro, we consistently strategize on how to sustain our gains on LGRC and anti-insurgency," Regional Director Roldan emphasized.
DILG Davao de Oro Provincial Director Noel C. Duarte presented the PLGRC's role in knowledge management and sharing to achieve better governance outcomes in the province. He also presented Davao de Oro's initiatives and accomplishments in countering insurgency, anchored on Executive Order No. 70 Series of 2018, which promotes the Whole-of-Nation Approach in attaining inclusive and sustainable peace.
For her part, DILG-NCR Assistant Regional Director Atty. Ana Lyn R. Baltazar-Cortez, CESO V expressed the view that "despite the geographical distance between our two regions, we face a lot of social and economic issues in common; and by collaborating, sharing, and exchanging ideas and perspectives, we give practical meaning to the insight that indeed knowledge shared is power multiplied."
After the discussion of Provincial Director Noel C. Duarte, the DILG-NCR and DILG Region XI delegation proceeded to Tagum City Hall, Davao del Norte, for a courtesy visit to Tagum City Mayor Rey T. Uy, who shared the City's milestones in local governance.
The benchmarking activity was a follow-through of the Knowledge Management and Local Governance Resource Center (LGRC) orientation activity organized by DILG-NCR last July for all its 17 Field Offices, with the objective of gaining an in-depth understanding on how to successfully establish sub-LGRRCs in their respective offices.#