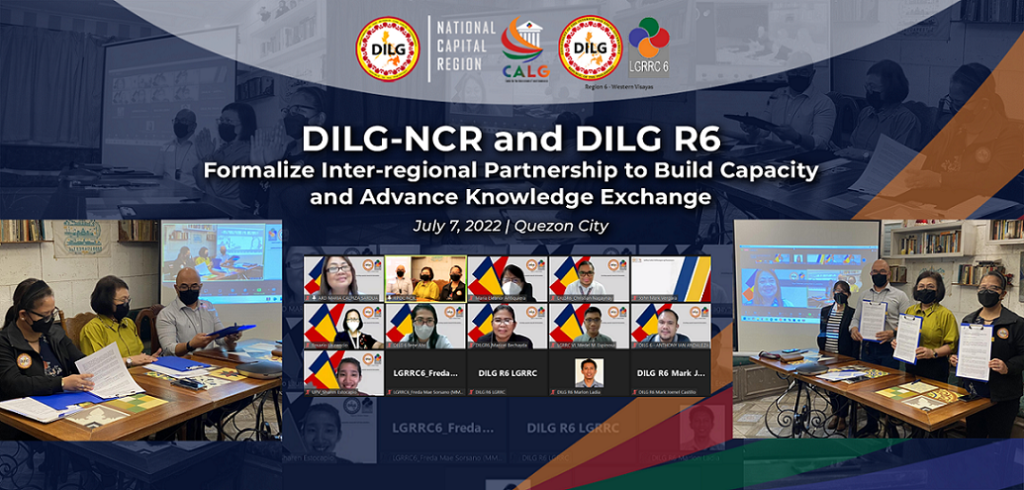 The DILG-NCR and DILG Region VI signed a Memorandum of Understanding (MOU) committing both regional offices to collaborate on a broad range of capacity-building measures including regular knowledge-exchange, the pooling of experts, the sharing of best practices and innovation, and other activities that will advance local governance in their respective jurisdictions. The ceremonial signing was held on July 7, 2022 in Quezon City.
The MOU was signed by Regional Director Maria Lourdes L. Agustin, CESO III, on behalf of DILG-NCR and Regional Director Juan Jovian E. Ingeniero, CESO IV, on behalf of DILG Region VI. Witnessing the signing were DILG-NCR Assistant Regional Director Atty. Ana Lyn R. Baltazar-Cortez, CESO V, and DILG Region VI Assistant Regional Director Maria Calpiza J. Sardua, CESO IV.
The operationalization of the MOU shall be undertaken by the respective Local Government Regional Resource Centers (LGRRCs) of both regional offices, with DILG-NCR acting through its Center for the Advancement of Local Governance (CALG).
On the significance of the occasion, RD Agustin remarked "We are at the genesis of a movement that will draw local governments and other partners into an ever-widening orbit of expertise, best practices, benchmarks, values, and principles that will make local governments the center of gravity for social, political, and economic change and development."
In response, RD Ingeniero saw the recently forged collaboration as "vital in achieving dynamic and interactive programs in order to build knowledge-centric organizations and learning communities that pursue local governance excellence through knowledge-sharing and innovation."
For her part, ARD Sardua expressed the steadfast commitment of the region to the new partnership. "Through the collaboration that we are about to embark on, we will continue to leverage our respective strengths and competitive edge to supplement and support each other's endeavors," she said.
In anticipation of the mutual benefits the MOU is expected to deliver to both regions, ARD Baltazar-Cortez closed the morning's activity on that hopeful and positive note, saying, "we look forward to seeing the kind of collaborative undertakings that breathe life into a Knowledge Management-enabled relationship such as that envisioned in the MOU we signed today."#