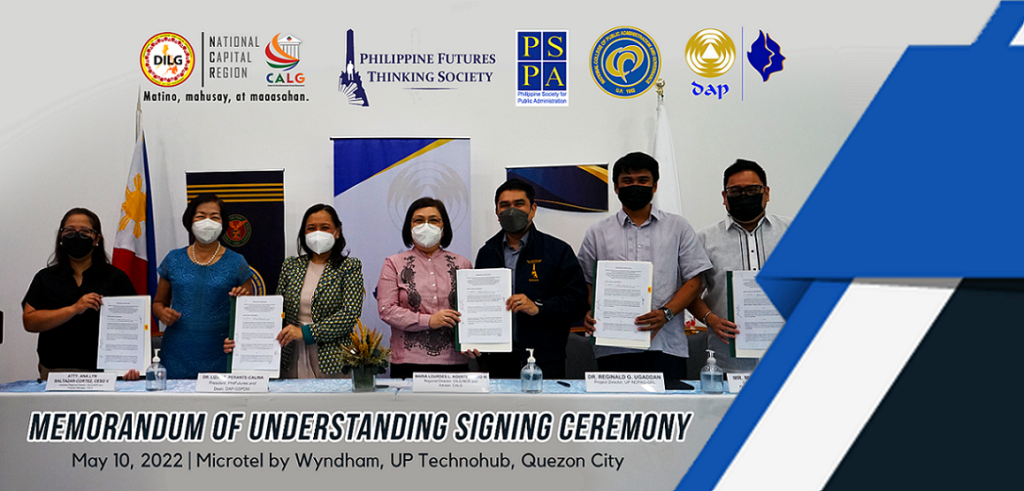 In a move that is expected to accelerate the convergence of key disciplines in Knowledge Management, Anticipatory Governance, and Futures Thinking, the DILG-NCR, through its Center for the Advancement of Local Governance (CALG) signed a multipartite Memorandum of Understanding (MOU) with the Philippine Futures Thinking Society (PhilFutures), the Philippine Society for Public Administration (PSPA), Development Academy of the Philippines Graduate School of Public and Development Management (DAP-GSPDM) and the University of the Philippines – National College of Public Administration and Governance – Governance Futures Lab (UP NCPAG-GFL).
Regional Director Maria Lourdes L. Agustin, CESO III signed the MOU on behalf of CALG while Dr. Lizan Perante-Calina, President of PhilFutures and PSPA and Dean of DAP-GSPDM and Dr. Reginald G. Ugaddan, Project Director of UP NCPAG-GFL represented the counterparties. Acting as witnesses to the agreement were Atty. Ana Lyn R. Baltazar-Cortez, CESO V, Assistant Regional Director of DILG-NCR and Program Manager of CALG and Prof. Michville A. Rivera, Board Member of PhilFutures.
Dr. Ma. Oliva Domingo, President of Kalayaan College and Mr. Emmanuel de Guia, Resident Futurist of the Philippine Senate Committee on SDGs, Innovation and Futures Thinking were also present during the ceremony.
The signing ceremony was held on May 10, 2022 at the Microtel by Wyndham, UP Technohub in Quezon City.
As envisioned in the MOU, the parties shall pool knowledge, skills, and expertise on various facets of futures thinking, urban local governance, public administration, and sustainable development. In addition, the parties shall actively promote and propagate their common advocacies with their respective constituencies.
In her message, Dr. Lizan Perante-Calina expressed her vision to "democratize Futures Thinking in the Philippines." Doing so, Dr. Perante-Calina added, provides another lens through which to view public management and administration, "thus making governance anticipatory."
For his part, Dr. Ugaddan believed that what they are currently doing at the GFL will benefit greatly from the collaboration with DILG-NCR-CALG by "putting into practice what we are learning from our research."
In response, RD Agustin expressed her steadfast support for the agreement just signed and committed "to do all that we can to ensure that our collaboration succeeds and endures."
RD further added that, "there is a world of knowledge we can learn from and share with each other. And we fully expect that we can all be enriched, edified, and made wiser by our collaboration and interaction in the years to come."
The MOU having been duly signed and made effective, the DILG-NCR was awarded the Certificate of Futures Studies Collaboration by the DAP-GSPDM for being part of the democratization and indigenization of Futures Thinking in the Philippines.
The MOU is expected to give renewed impetus to the work the parties are currently doing as well as those planned to transform local governments into knowledge-centric, broadly networked and future-proof instruments of democratic governance.