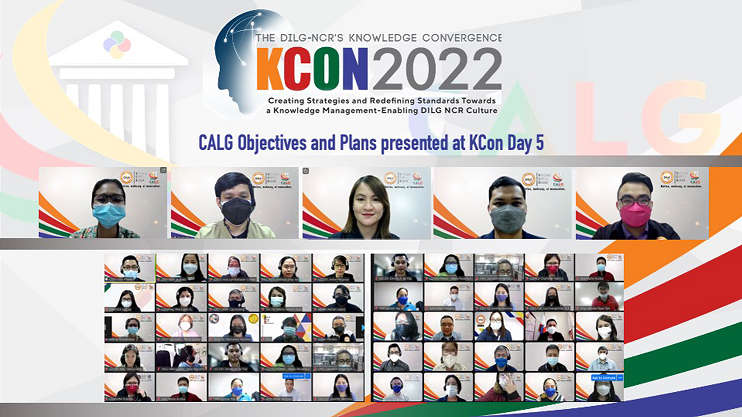 The fifth and final day of Knowledge Convergence 2022 (KCon 2022) was held on Zoom on March 25, 2022, where the final CALG Roadmap and Facility work plan outputs were presented to the DILG-NCR personnel.
Assistant Regional Director and CALG Program Manager Atty. Ana Lyn Baltazar-Cortez, CESO V, said in her opening message, "today may be the last day of the KCon, but it also marks the beginning of our work with a CALG that is significantly upgraded pursuing a concrete roadmap and defined work plans in the days ahead."
CALG Coordinator LGOO III Mary Rose Mabato provided a rundown on the last 4 KCon 2022 activities. For his part, CALG Coordinator LGOO VI Luigi D.C. Pilarta presented the finalized Vision, Mission, Strategic Elements, and Objectives of the CALG.
The CALG team took up the drafting of work plans during the fourth KCon held at Hive Hotel on March 18, 2022. These work plans were modeled after the Eisenhower Matrix, which categorizes goals and tasks into what is urgent and what is important.
Based on the foregoing matrix, Leads of the five CALG Facilities, namely: (1) Capacity Development, (2) Linkage, (3) Multi-Media Knowledge and Information, (4) Public Education on Good Governance, Development, and Citizenship, and (5) Civic Innovation, presented their work plans for the rest 2022.
Regional Director Maria Lourdes L. Agustin, CESO III, ended the activity by stressing the need for CALG to prioritize tasks, accelerate actions, and invest more in human resources.
"KCon is a long-term project – a long, exciting journey without an end but with a destination – that destination is a DILG-NCR that is informed, empowered, and imbued with a nurturing and generous spirit, an agent for positive change," she said.