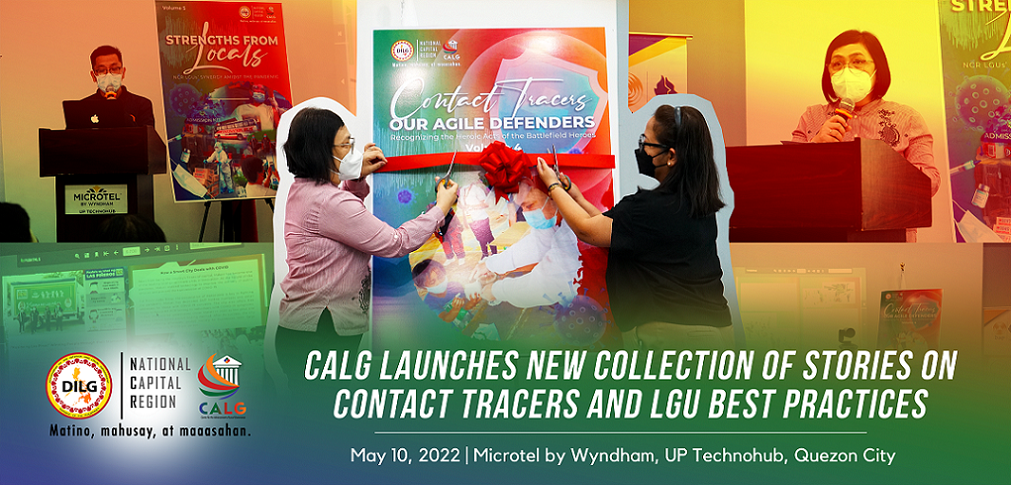 Volumes IV and V of the COVID-19 Compendium produced by the Center for the Advancement of Local Governance (CALG) were officially launched in simple ceremonies held on May 10, 2022 at the Microtel by Wyndham, UP Technohub in Diliman, Quezon City.
Volume IV, titled "Contact Tracers Our Agile Defenders" contains firsthand accounts of the work that Contact Tracers (CTs) undertook during the pandemic – detailing their individual experiences and the many challenges and difficulties they encountered in the course of their engagement as CTs and deployment to various COVID-19 hotspots in the NCR.
On the other hand, Volume V, titled "Strengths from Locals", describes how local Chief Executives (LCEs) in the NCR responded to the health emergency, especially in the early months of the pandemic. It highlights the many ways in which LCEs used their considerable crisis management skills in fast-tracking the establishment of vital medical and quarantine facilities needed and inoculating citizens against the COVID-19 virus.
While the compendium was a way to memorialize the courage and heroism of our CTs, it also provides valuable insights into the different aspects of crisis management as practiced by LCEs in the NCR at the height of the health emergency.
Assistant Regional Director and CALG Program Manager Ana Lyn R. Baltazar-Cortez, CESO V said of the stories chronicled in both volumes: "These stories never fail to move me emotionally… they renew my faith in the human spirit and restore my belief in the basic goodness and decency of people."
Volumes IV and V of the Compendium can be read in full by clicking the links below: