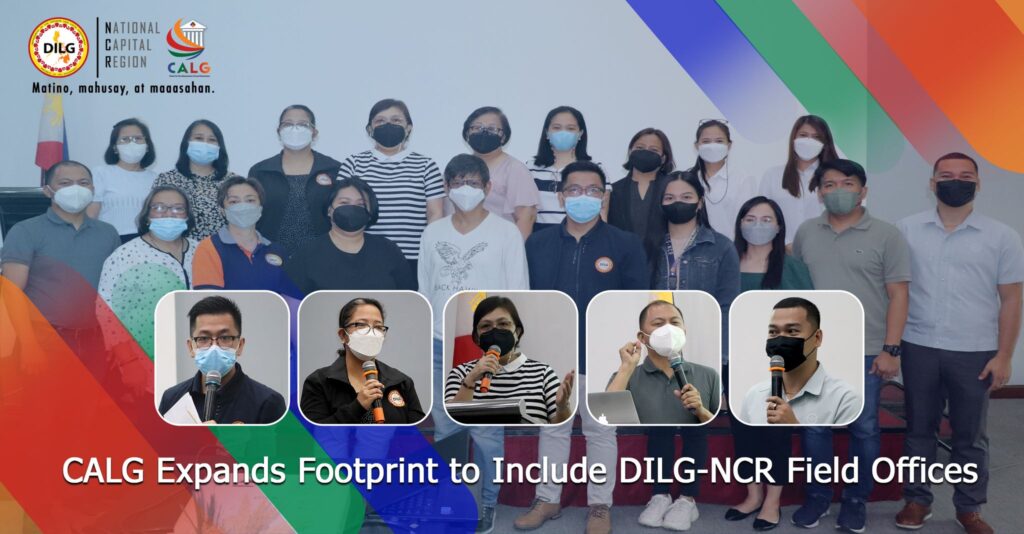 Aiming to expand its Knowledge Management (KM) operations, the Center for the Advancement of Local Governance (CALG), DILG-NCR's rebranded Local Governance Regional Resource Center (LGRRC) oriented the designated Focal and Alternate Focal Persons in the seventeen (17) field offices on KM and LGRC.
In her opening message, Director Maria Lourdes L. Agustin, CESO III, Regional Director of DILG-NCR and CALG Adviser, challenged all participants to institutionalize and strengthen CALG in their respective field offices. She said that "CALG is more than a physical structure. CALG is us. The field office has wide-ranging influence and connections – Civil Society Organizations (CSOs), the Academe, and other local governance stakeholders that are readily available waiting to be tapped".
For her part, Atty. Ana Lyn R. Baltazar-Cortez, CESO V, Assistant Regional Director and CALG Program Manager, expressed her excitement over this milestone for the CALG. The establishment of Sub-LGRCs will not only expand the footprint of CALG but more importantly, it will also provide an avenue for the field offices to showcase their KM practices and initiatives.
As the CALG program manager, Atty. Baltazar-Cortez assured all field offices of the CALG's full support in all their undertakings to ensure the successful establishment of the Sub-LGRCs in their respective areas of assignment.
Topics relevant to the establishment of the sub-LGRCs were presented and put up for discussion by LGOO VII Alvaro Fabon, Jr., Cluster Head and KM Champion, LGOO VI Luigi DC. Pilarta, Assistant Division Chief and CALG Program Coordinator, and LGOO V Dennis R. de Paz, CALG Civic Innovation Facility Lead.
LGOO VI Pilarta introduced the CALG – Participatory Local Undertaking with Stakeholders (CALG-PLUS), the Center's sub-local governance resource center, as an enabling arena for the establishment and institutionalization of the CALG in the field offices.
The orientation was conducted on July 25, 2022 at the Microtel, UP Techno Hub, Quezon City.