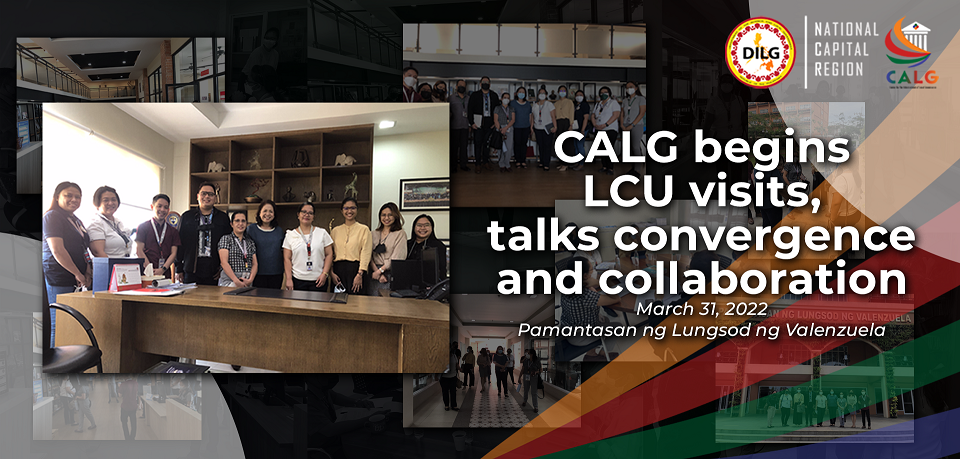 Following the ceremonial signing of the Partnership Agreement with local governance stakeholders, DILG-NCR, through the Center for the Advancement of Local Governance (CALG), paid a visit to the Pamantasang Lungsod ng Valenzuela (PLV) last March 31, 2022.
Affirming the importance of Local Colleges and Universities (LCUs) in promoting better local governance, the CALG has embarked on a new strategy of personally visiting partner institutions to discuss possible areas of convergence. Given the different contexts in which partner institutions operate in the urban setting, DILG-NCR is adopting a flexible approach in creating programs with partners that are relevant and designed to be future-proof.
DILG-NCR ARD and CALG Program Manager Atty. Ana Lyn R. Baltazar-Cortez CESO V explained that the CALG is pursuing its Strategic Goal # 3, which is to synergize efforts and foster sustainable partnerships among stakeholders with the end in view of fostering excellent urban local governance.
CALG Linkage Facility Lead Marda Alina Dumaoang-Acoba explained the contextual framework that underpins the work of DILG-NCR and the possible institutional arrangements that can be forged between and among partners.
While DILG exercises oversight functions over local government units through performance assessments and audits, LCUs and other partners may use the data generated in the course of its supervisory functions in analyzing and identifying capacity development gaps and the interventions necessary to address those gaps in ways that are appropriate in an urban setting.
PLV President Dr. Nedeña Torralba responded positively upon being presented with the take-off points for possible areas of convergence and expressed the PLV's support for further collaboration with CALG in the future.
The CALG team is set to visit other LCUs and partner agencies in the NCR in the second quarter of 2022.