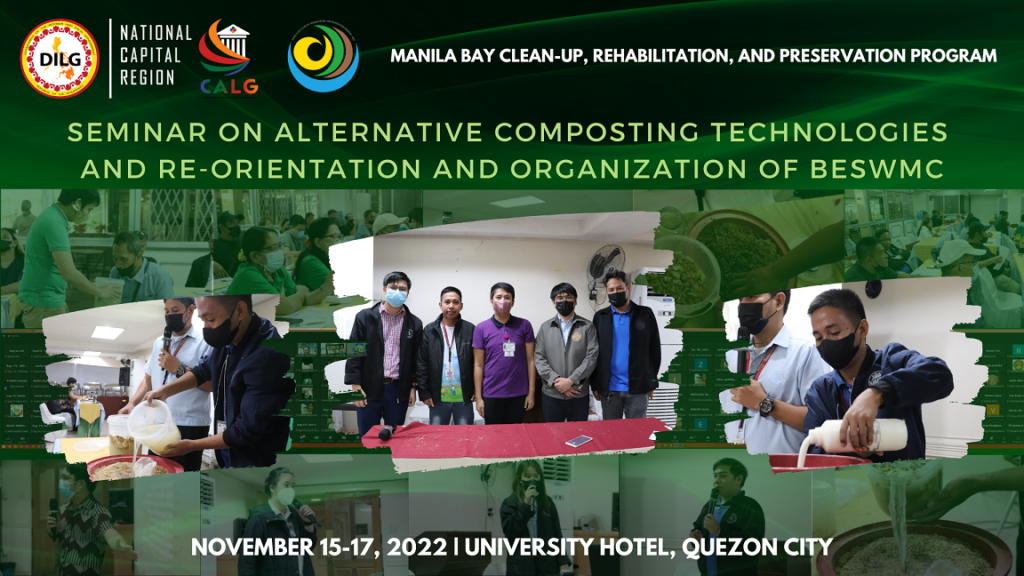 The Manila Bay Cleanup, Rehabilitation, and Preservation Program Management Team (MBCRP-PMT) conducted a three-day seminar on the importance of composting in the management of environmental resources and the role that barangays might play to promote this practice.
The seminar ran from November 15 to 17, 2022 and was held at the University Hotel in Quezon City.
Among the items taken up in the program pertained to the implementation of the Republic Act No. 9003, or the Ecological Solid Waste Management Act. In this regard, the MBCRPP-PMT discussed the DILG Memorandum Circular 2018-112, which covers the organization of a Barangay Ecological Solid Waste Management Committee (BESWMC).
The said committee's responsibilities include: the segregation and collection of solid wastes, the establishment of a materials recovery facility (MRF) within the barangay or a cluster of barangays, the allocation of funds for ecological solid waste management programs, and the conduct of trainings on segregation, composting, and recycling.
Assistant Regional Director (ARD) Atty. Ana Lyn Baltazar-Cortez, CESO V, opened the program by citing the importance of introducing newer, more innovative technologies in composting and other forms of waste management.
According to a study conducted by the Philippine Information and Development Studies (PIDS) in 2017, around 2,000 tons, or 2 million kilograms of food wastes are being collected in NCR alone. Given the enormous volume of waste generated in the region, ARD Baltazar-Cortez posed the following rhetorical question to the participants, "How do we manage our wastes?"
A possible answer may lie in the use of alternative composting technologies such as the Takakura Composting and Bokashi composting systems. These were introduced and demonstrated by Program Development Officer III Melnes Garcia of the Metropolitan Manila Development Authority (MMDA) and his colleagues.
Mr. Garcia also brought up another aspect of waste management, and that is the importance of waste reduction. He cited the scarcity of landfill facilities in the country as one of the major waste management concerns that the government is trying to address.
The seminar, which was held via a hybrid set-up, was attended by more than 800 Sangguniang Barangay Members and Punong Barangays via Zoom teleconferencing, and more than 100 participants attended in person.
As a follow-on activity of the MBCRP Program, a skills training on Fish Processing as well as a briefing on DA-BFAR's FishR and BoatR registration system for the fisherfolks of NCR Coastal LGUs was also scheduled this month.