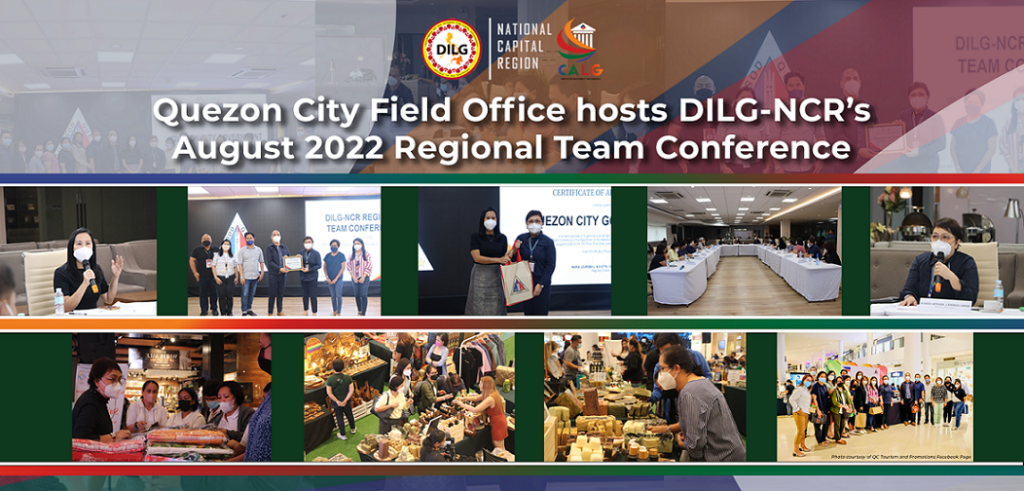 The DILG Quezon City Field Office hosted the Department of the Interior and Local Government – National Capital Region's (DILG-NCR) Regional Team Conference (RTC) held on August 4, 2022 at the Quezon City Hall.
Attended by all DILG-NCR's executives, the RTC is the platform for the Regional Management to regularly discuss updates on the implementation of various DILG-managed Programs, Projects, and Activities (PPAs) at the Regional and Field Offices level.
Beginning this year, one (1) DILG Field Office is assigned per month to host the RTC. This undertaking serves as an opportunity to interface with other local government units (LGUs) in the region and provides an avenue to showcase best practices and other innovations originated by the LGUs.
Regional Director Maria Lourdes L. Agustin, CESO III disclosed to all the participants that several activities are already in the pipeline for the second semester. "After co-hosting the NEO Orientation for Municipal Mayors of Region 5 and NCR, City Mayors and Governors, we also need to prepare for the Seal of Good Local Governance (SGLG) National Validation, and other reprioritized programs of the Department as articulated by Secretary Atty. Benjamin "Benhur" C. Abalos Jr."
Now on her second term as a local chief executive, Quezon City Mayor Ma. Josefina "Joy" G. Belmonte welcomed the participants and expressed her gratitude to the Department. "I am thankful to the entire DILG for undertaking efforts along with other national government agencies, in further raising our capacity as LGUs for accountable, effective, and responsive service delivery," Mayor Belmonte remarked.
Regional Director Agustin ended the RTC by expressing her gratitude to Mayor Belmonte and to the DILG Quezon City Field Office led by City Director Emmanuel D. Borromeo, CESO V, for hosting the RTC.
After the RTC, the City Government led the DILG-NCR Executives to the UP Town Center to visit "Made in QC (MIQC): Local Artisans' Fair", a City-led initiative that aims to provide a venue for local merchants to regain their footing in the wake of the economic effects of the pandemic.
MIQC showcases quality products hand-crafted by various micro and small enterprises in the city; these products range from clothes, footwear, soaps, candles, bags, baked goods, among others. In support of this program, shopping malls in Quezon City provide rent-free spaces to these local merchants within the duration of the Local Artisans' Fair.