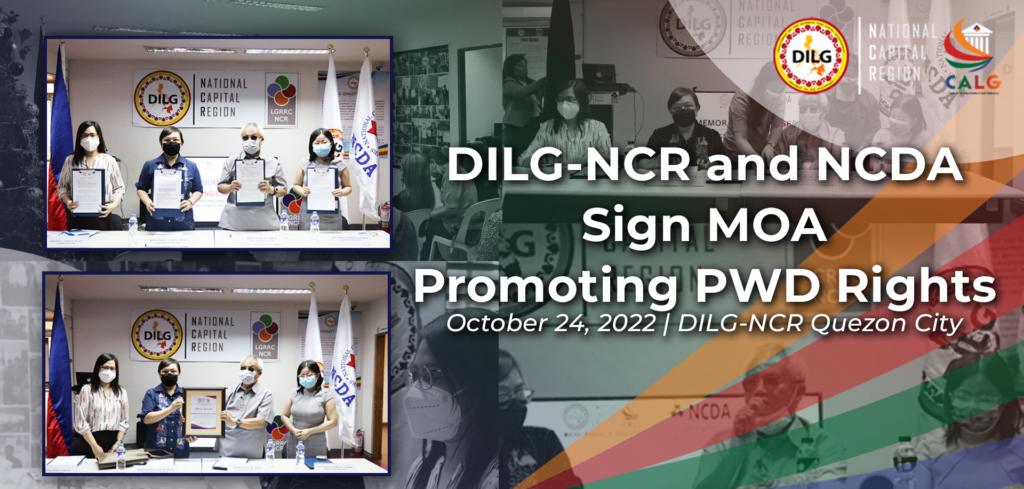 The Department of the Interior and Local Government – National Capital Region (DILG-NCR) and the National Council for Disability Affairs (NCDA) signed a Memorandum of Agreement (MOA) to formalize the partnership and collaboration in promoting the rights of Persons with Disabilities (PWDs). The signing ceremony was held on October 24, 2022 at the DILG-NCR Regional Office in Quezon City.
The partnership aims to further ensure that the principle of Equal Opportunity is followed in DILG-NCR's assessment and selection processes of personnel under its PRIME-HRM or the Program to Institutionalize Meritocracy and Excellence in Human Resource Management. The agreement also supports policies, programs and activities that uphold the interests of the PWDs working in Local Government Units (LGUs).
DILG-NCR Regional Director Maria Lourdes L. Agustin, CESO III, said in her message, "We fully recognize that merit, integrity, and excellence can be found anywhere and in anyone regardless of age, gender, cultural origin, or disability."
In response, NCDA Deputy Executive Director Mateo A. Lee, Jr., commended the DILG-NCR for initiating the partnership with NCDA and at the same time commited to provide the necessary technical assistance in making LGUs in the NCR PWD-friendly, a criterion which is included in the assessment process for the Seal of Good Local Governance (SGLG).
The MOA addresses both governance and rights imperatives that the signatories are mandated to uphold.